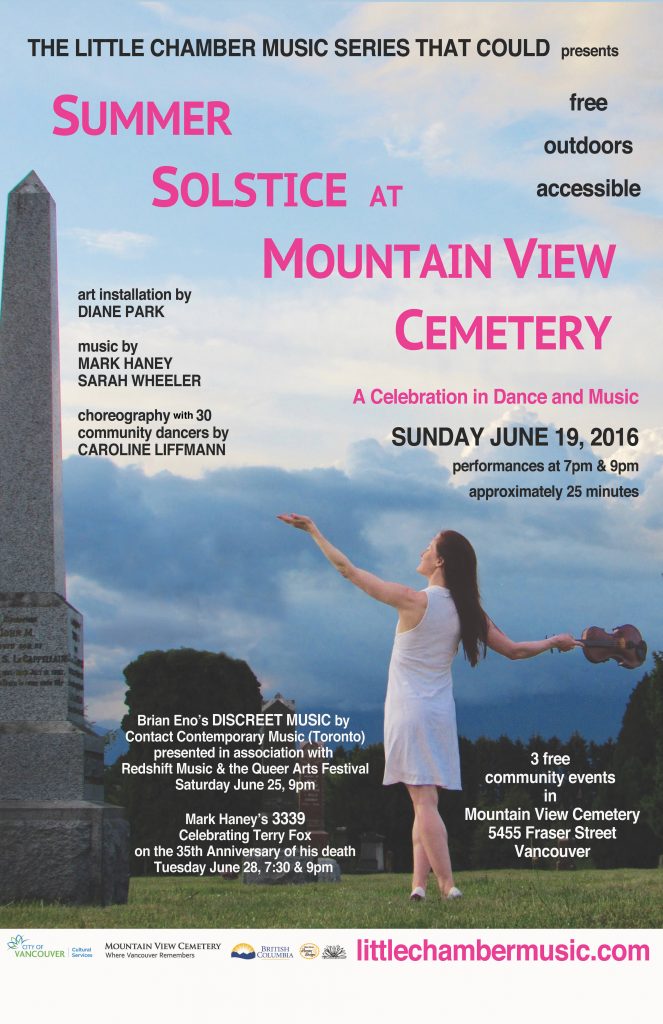 June at Mountain View Cemetery with
The Little Chamber Music Series That Could!
All events are free, all ages and accessible
At Mountain View Cemetery 5455 Fraser St
Little Chamber Music and Mountain View Cemetery continue to build and grow their unique relationship, and we are proud to present 3 amazing events this June. To our knowledge no other cemetery has a Composer in Residence (our own AD Mark Haney) or an Ensemble in Residence (Little Chamber Music's designation)! Our General Manager Diane Park has also be named an Artist in Residence at Mountain View, recognition of the installations, photographic and video elements that make our events so memorable.
Summer Solstice in Mountain View Cemetery:  
A Celebration in Dance and Music
7pm and 9 pm (performance approximately 20 minutes)
outdoors
Our 2nd annual Summer Solstice In Mountain View Cemetery celebrates the circle of life, death and renewal by bringing community together to mark the longest day of the year with art, live music, and performance by 30 community dancers! Project Director/Artist Diane Park, Composer Mark Haney, Singer/Songwriter Sarah Wheeler, and choreographer Caroline Liffmann have joined forces to create this unique celebration of art and community. Last year's event was a huge success, attracting 800 people through the evening!
Led by Diane Park, and featuring an installation by her, this year's Solstice celebration reflects on The Journey and what that means to each of us. Mark Haney composed "Life Is Not a Horse Farm" for string quartet based on his walking the Camino Santiago this past year, and 30 community dancers have met in the cemetery on Mondays for 3 months creating and rehearsing choreography under the direction of Caroline Liffman.
A truly unique community event!
Brian Eno's Discreet Music
performed by Contact Contemporary Music (Toronto)
9pm (performance approximately 80 minutes)
in the Celebration Hall
Celebration Hall will fill with the sounds of this ambient masterpiece, and we're opening the doors so the audience can enjoy the sounds from the beautiful courtyard of the Hall as well as inside.
On the 40th anniversary of the release of Brian Eno's electronic ambient masterpiece Discreet Music, Toronto's classical Contact ensemble, led by artistic director and percussionist Jerry Pergolesi, weighs in with a modern arrangement that harks back to the adventurous experimentalism of the original.
In Contact's version, acoustic and electric instruments (cello, violin, soprano saxophone, guitar, double bass, vibraphone, piano, flute and gongs) take the place of Eno's EMS synthesizer, channeling the underlying melodies of the piece until the ensemble itself becomes a kind of "looping apparatus".
Remembering Terry Fox on the 35th Anniversary of his death
7:30 and 9pm (performance is 33 minutes and 39 seconds in length)
in the Celebration Hall
Commissioned by Redshift Music in 2012, Mark Haney's 3339 places the story of Terry Fox and his Marathon of Hope into the context of the mythical hero's journey. For alto flute, viola, double bass, percussion, narrator, projection and field recordings (taken where the Marathon began and ended) this work was created to tell the greatest Canadian story in a new way.
"I was frustrated that Terry's story was always framed by what he didn't do; he wanted to run across Canada but didn't make it. I wanted to frame it with his incredible accomplishment; he ran 3339 miles, a marathon a day for almost 6 months" explains the composer.
Very well received at it's premiere at The Cultch in 2012, we are proud to present this work on the 35th anniversary of Terry's death. It is very appropriate to be performing it at Mountain View Cemetery, their tag line is "Where Vancouver Remembers".